Step ladders are self-supporting, portable equipment commonly used for domestic, commercial, and industrial purposes. Due to the fact they are mostly used at home, it's vital to understand how to use step ladders safely.
Step ladders are crucial tools that help us reach points that cannot be reached using stairways. However, these types of equipment are mostly taken for granted by many people because of their size. Yeah, they are shorter and less complex, unlike the extension ladders.
Many people regard step ladders as step stools which is wrong. Step stools are a kind of mini ladders. And due to these dangerous assumptions, deaths and injuries are experienced yearly from falling off these ladders. The second risk brought by the step ladders is electrocution. Most step ladders are made of aluminum and other metallic materials.
Unfortunately, many people never take the time to inspect the electric power lines before setting up the ladders. And this has become the second accident causing factor from falling off.
Luckily, you can avoid these hazards by learning how to use step ladders safely. And this article will share all the crucial tips to help you save life on construction sites, factories, or at home, where most accidents are recorded.
Step Ladders Classifications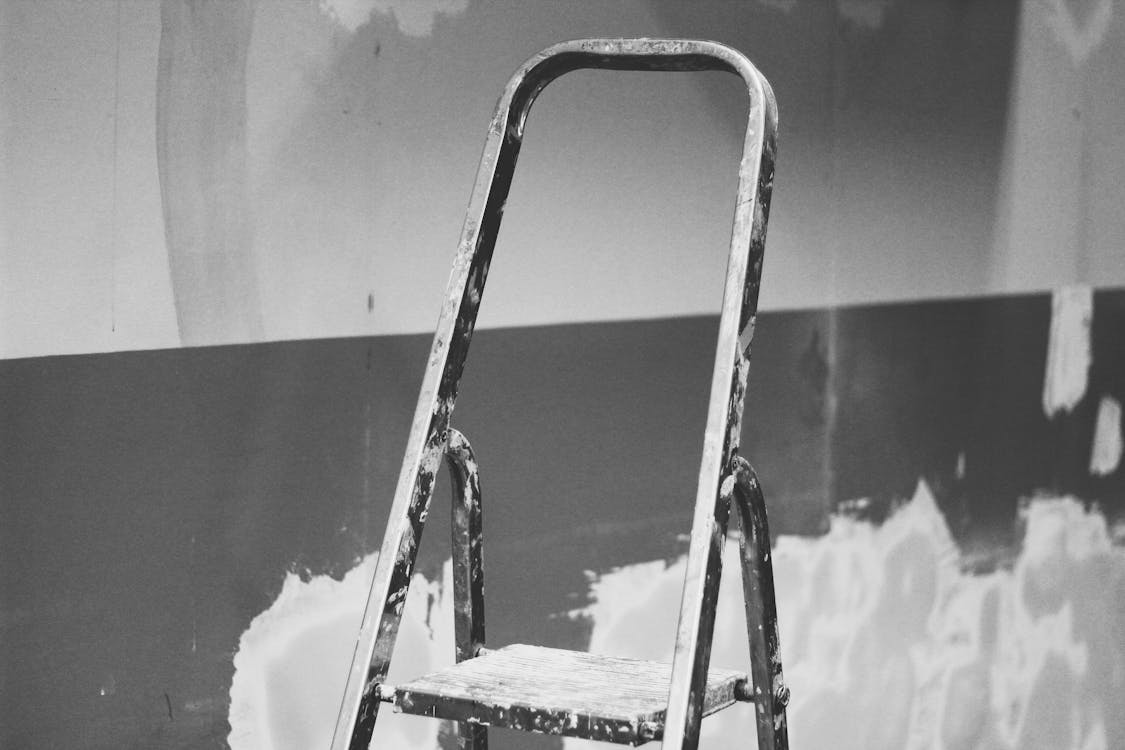 To use step ladders safely, you must choose the right ladder grade for your job. As that's the case, you have various ladder options depending on your job. Take a look;
| | | | | |
| --- | --- | --- | --- | --- |
| Grade | Grade rating | Use | Maximum Load | Maximum Length |
| I AA | Special duty | Industrial and construction | 170kgs (375lbs) | 3.6 M (12 feet) |
| I A | Extra heavy duty | Industrial and construction | 136kgs (300lbs) | 6M (20 feet) |
| I | Heavy duty | Industrial and construction | 113kgs (250lbs) | 6M (20 feet) |
| II | Medium duty | Commercial (Tradesmen and gardeners) | 102kgs (225lbs) | 3.6M (12 feet) |
| III | Light duty | Household chores | 91kgs (200lbs) | 2M (6.5 feet) |
Read: DIY scaffold plank
How to Use Step Ladders Safely: The Dos and DON'Ts
The Occupational Safety and Health Administration (OSHA) has guidelines to ensure you're safe on the step ladders. These guidelines entail the DOs and DON'Ts. Let's dive in;
The DOs
Set your step ladder on a level surface.
Keep the step ladder free from slipping substances or materials.
Keep traffic away when using a step ladder using a barricade.
Climb the step ladder on the middle part while facing it.
Maintain the tree contact points (two hands and one foot or two feet and one hand) when climbing up or down the step ladder.
Check for overhanging electric power lines before climbing.
Read and understand the user manual and stickers before using the step ladder.
Use the front side rungs to climb up or descend the step ladder.
Ensure your step ladder is one meter shorter than the area you're working on to have a stable base.
Place your step ladder at a right angle close to the area you're working on.
Read: Ladder transportation laws
The DON'Ts
Never use a step ladder with unlocked spreaders.
Never use a step ladder with defects.
Don't stand on the top step or top cap of the step ladder. Check on the marked rung.
Never use the step ladder for other purposes than those designed for.
Don't increase the step ladder height by placing your feet on wood or other objects.
Don't level the step ladder feet with any base if the ground surface is not flat.
Never move or shift your step ladder while stepping on it.
Never leave working tools on your step ladder.
Don't try to overreach while on the step ladder.
Never fold the step ladder to lean it on the wall for use.
Tips on how to check if a ladder is safe
Pre-Use Step Ladder Inspection Parts
Carry out a pre-use inspection before climbing your step ladder to enhance safety. As such, there are several components of a step ladder you may inspect. Take a look;
It's the top platform for placing tools you're working with. The top cap connects the rear rails and the front rails using hinges to fold or extend to various angles.
Inspect the hinges and replace or tighten any loose screws using a screwdriver. If the hinges have rust, clean and grease using STA-BIL rust stopper.
Rails are adjusted to various angles to support the ladder. Inspect the rear and front rails for any bend or crack in aluminum step ladders and fix them. For wooden rails, check for any splits and sand them using wood sandpaper, then apply varnish.
Rungs are the stepping platforms you hold and step on to reach the top. Replace bent, missing, broken, or cracked rungs. Inspect any sharp edges on existing rungs. Moreover, if rung bolts are loose, tighten them using a wrench.
Spreaders and Spreader Locks
Spreaders connect the rear and front rails to allow them to lay together when storing or spread to the required angle when in use. Replace bent or broken spreaders and clean any rust.
On the other hand, the spreader locks protect the rails from moving after setting the working angles. Faulty spreader locks should be repaired or replaced.
Anti-flip safety shoe in every step ladder rail enhances traction from the ground. Inspect and replace any broken or missing safety shoes.
Labels carry user information on using the ladder. Find and print the information for missing labels, then stick it to the ladder.
Read: How to extend a ladder without a rope
What are Five Steps to Ladder Safety?
Choose the right ladder for your job.
Inspect the ladder every time before use.
Ensure the ladder is stable before climbing.
Don't carry heavy items when climbing the ladder.
Stand between the side rails.
FAQs on Step Ladder Safety
Can Step Ladder Be Leaned Against a Wall?
Step ladders are designed as self-supporting equipment. For this reason, you shouldn't lean them on walls or other vertical surfaces.
See also: Ladder gutter protectors
What is the Most Common Type of Ladder Accidents?
According to injury statistics, the most common type of ladder accident is falling. A fall from any ladder may cause head injuries and bone fractures.
To ensure you're safe, embrace not only how to use step ladder safely, but all types of ladders. 
Read: Fiberglass ladder damage protection
References and Citations:
Health and Safety Executive (HSE): Safe use of ladders and stepladders- https://www.hse.gov.uk/work-at-height/ladders/when-how-to-use-ladders-safely.htm